Experts Predict Economic Meltdown in U.S.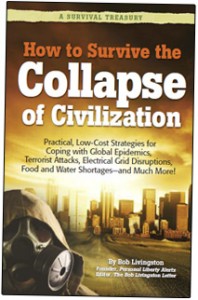 Author: Andy Robbins
Recently a 60-Minutes broadcast shed light on the looming economic meltdown not only of the Federal Government, but also of State and local governments.  The debt problem of our government has gotten so big that there is virtually no way, they say, to avoid an economic holocaust, leaving many cities and communities impoverished.  Click here to read the story and see a clip of the 60-Minutes broadcast.
What does this mean for faith people believing God for financial abundance?
For starters, it means getting up off of our backsides and seeking God in the New Year like never before.  It means making Him and His kingdom our utmost desire, obeying Him impeccably, and seeking His face passionately.  We can gain some insight from Jeremiah 29:11-13 here:
"For I know the plans I have for you," declares the Lord, "plans to prosper you and not to harm you; plans to give you hope and a future.  Then you will call upon Me and come and pray to Me, and I will listen to you.  You will seek Me and find Me when you seek Me with all your heart."
2 Chronicles 7:13-14 follows suit:
"When I shut up the heavens so that there is no rain, or command locusts to devour the land or send a plague among My people, if My people, who are called by My Name, will humble themselves and pray and seek My face and turn from their wicked ways, then I will hear from heaven and will forgive their sins and heal their land."
One of the problems of widespread generational prosperity like we have enjoyed in the United States for so long are the sins of complacency and entitlement among  those not really seeking God.  For so many people, prosperity inevitably leads to spiritual apathy; apathy leads to lasciviousness (unrestrained carnality); and that lasciviousness leads to a total loss of common sense and even a sense of entitlement.  And that loss of common sense leads to unwise management of government and personal affairs, which predictably results in eventual catastrophe.  That's where we as a Country now find ourselves.
Is there hope?  With God, my friends, there is always hope.   Even if the economic collapse that the experts predict happens, God has always promised to supply the needs of those whose hearts are fully devoted to Him.  But it begins with making Him your heart's desire.  When you do so, He promises to provide for your needs (see Matthew 6:25-34).
But I believe that the concept of what it really means to follow God has been largely misunderstood by today's Church, and thus the reason for this post.  Being a disciple of Jesus Christ means quite a bit more than just going to church religiously.  In fact, church attendance alone will not save anyone from any coming calamity.  It is certainly true that a person truly in love with God will make weekly worship with the saints a priority, but religious expression alone apart from a heart wholly devoted to Him is a stench to God (see Psalm 50).  Those under the protection of God's loving Hand are those who seek peace in their relationships so long as it depends on them and who walk in love and forgiveness as demonstrated in deed and not just in words.  It also includes those who are sexually pure, those who are innocent of greed, those who are not gossipers, and those whose speech is pure (see Ephesians 4:1-3; 29-32; 5:1-7).   And it also includes those who walk in true humility before both God and man (1 Peter 5:5-6).
All down through the annals of scripture we see that God has reserved a special measure of intimacy, protection, and prosperity for those whose hearts are FULLY devoted to Him in every way (2 Chronicles 16:9a).  And we also see that whenever calamity was coming on a people, God would always provide a warning beforehand in order to give ample time for both repentance and preparation.
I believe these warnings from economic experts should be taken seriously.  They are consistent with what many Godly prophets have been saying for years.  It's time to seek Him like never before.  Your very security could depend on it.
More on this topic in a later post.