The Times, They are a Changin'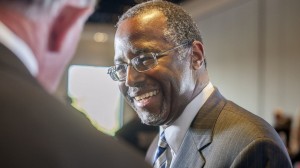 Bob Dylan once sang, "The times, they are a changin'!"
That certainly seems to be the case in the political climate of America.  In some ways, the times are changing for the worse.  But in other respects, they are changing for the better.
Enter, then, Dr. Ben Carson, one of the most heralded and brilliant neuro surgeons in the world.  He is also very outspoken on a variety of political issues, and his viewpoints resonate with a growing segment of America to the point that some are urging him to run for President.  Go here to view 2 short videos featuring Dr. Carson.  (The video starts automatically once you get on this page, but it takes a minute.  There is nothing to click once you get there, but you do have to be patient. Be sure to watch both videos…you won't believe what he has to say about our new Healthcare bill in the second video!)
This is the kind of man that many Christians have been praying for to lead our Country.  Current Indiana Governor Mike Pence is another person who, should he decide to run, would be a God-send for Americans who hold to family values and conservative, Christian ideals.
Keep an eye on these two men, pray for them, and pray for our Country.  God is not done with America!  Our best days are in front of us…..if……
"If my people, who are called by My Name, will humble themselves and pray and seek My face and turn from their wicked ways, then I will hear from on high and forgive their sins and heal their land."  -2 Chronicles 7:14