My Personal Story: A Final Response to 'Religulous'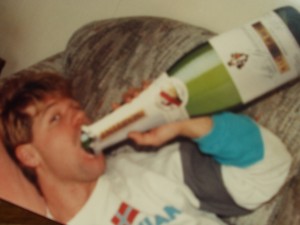 Author: Andy Robbins
It has been said that a person with an experience is not subject to a person with a good argument. In other words, you might have a very convincing-sounding argument that strawberries are a healthy food and should be included in the diet, for example, but that argument means very little to a person who goes into anaphylactic shock every time he or she even tastes a strawberry.
.
Similarly, I am a Christian not only because it makes intellectual sense to me, but moreover because I have had experiences that are beyond anyone's ability to explain away, such as the fact that God seemed to invade my life in my late twenties when I was anything but spiritual. I was an extremely immoral person who cared for nothing but fulfilling my own selfish and fleeting desires. I was violent and brutal, dishonest, sexually deviant, and an abuser of chemical substances. But in one overwhelming moment one spring afternoon in 1992, I knelt on a bedroom chair and asked God to take control of my life, and I have never been the same since. Virtually overnight I was different, and have been in a process of radical transformation ever since.
.
Those who knew me prior to 1992 know that a miracle happened, because it wasn't a near-death experience that made me take inventory of my life. It wasn't the death of a loved one, and it wasn't a traumatic experience of any kind. It was simply a manifestation of God reaching down and taking notice of a messed up person who He wanted to make His own.
.
I don't mean that I saw lightning bolts and heard claps of thunder. I didn't feel warm sensations all over my body. I just came to the realization over time that I was a sinner and needed a Savior, and one day I called on the God Who provided a way for my sins to be forgiven through Jesus Christ.
.
Since then I have experienced amazing answers to numerous prayers that can only be attributed to supernatural intervention.
.
Trying to convince me that Jesus and the Bible are for intellectual weaklings is like trying to penetrate the hull of a battle ship with a BB gun. I know that I know beyond all doubt that God has intervened in my life, and that belief is bolstered by the common sense of following the example and teachings of Jesus, and the scientific and historical evidence proving the veracity of the Bible and the claims of Jesus Christ.
.
All that aside, however, let's say just for argument sake that Christianity is just another religion thought up by some group of religious zealots. Let's say that there is no life after death, or that all belief systems lead to the same place….some everlasting nirvana or something. If I discovered today beyond all doubt that the Bible is all a fairy tale, I'm not sure I would live any different, because my life today is so much more blessed – radically so — compared to my previous life, that I would never consider for a moment going back. In fact, I wouldn't trade places with anyone I know who is not a Christian. Following the principles of the Bible have proven to me to be a smart way to live if you want to be blessed. As Jesus said, "I have come to give life, and that more abundantly" (John 10:10), and as Proverbs 10:22 says, "The blessing of the Lord maketh rich, and He adds no sorrow to it."
So why then would Bill Maher and those like him fault me for following the principles of the Bible and placing my faith in Jesus Christ? Why is that distasteful to so many people? Is it because I hold beliefs that are in opposition to their worldview? Why should that bother them? I'm not attempting to ram my beliefs down their throats, and I'll bet that most of the Christians they know and you know are not trying to force their beliefs on anyone either.
.
Bill Maher and other non-Christians hold different beliefs than me, but that shouldn't be an issue of divisiveness should it? Isn't it the concept of tolerance that so many people today hold so dear? Do they mean tolerance toward everyone and everything except Christians? It certainly appears that way. You don't make movies vilifying the beliefs of people who you want to be tolerant with. You vilify people who you want to portray as the scum of society. That's what Maher has done, and sadly many non-Christian people who preach tolerance are giving Maher attaboys. Seems like an incredible hypocritical double-standard to me.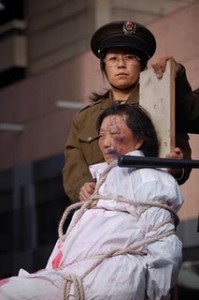 But friends, that's the way it has always been. Christians have been vilified and persecuted in every continent on the planet for the last 2,000 years. Yet interestingly, the more the persecution, the more Christianity seems to thrive. The severest persecution seems to be like throwing gas on the fire. It just ignites a grassroots growth that nothing seems to be able to stop. If those in opposition to Christianity were smart, they would leave us alone and let us remain happy and lazily silent in our comfort and prosperity. But when the resistance gets hottest, that's when the sleeping giant awakes.
.
China, for example, has the largest underground church in the world amidst a government that commonly imprisons, tortures, and executes Christians. Yet it has been reported that Christianity in China is growing faster than in any place on earth.
.
So go ahead. Ridicule us. Persecute us. Vilify us. Arrest us, imprison us, and execute us. It won't stop us. We will only multiply. You may have achieved your goal of controlling the government, the media, the entertainment industry, and the schools and universities, but you cannot stamp out Christians. We are uniting. We are growing stronger. And it is your persecution, the very thing you hope will exterminate us, that is causing us to unite and grow stronger.
.
So do your worst Bill Maher and all like him. Even if you drive us underground, you will not stop us. God's Kingdom is advancing among people of all different backgrounds, ethnicities, and social, educational, and economic statuses across every nation on earth, and it will continue to do so.